The Sacrifice/Candescence
The High Priest and High Priestess characters were originally created for The Sacrifice / Candescence, a two-part outdoor performance for WinterWild Apollo Bay Festival, where over 500 audience members braced themselves for the cold, sleet and rain in an unforgettable theatrical experience. The performance was shaped around the festival's theme of Death and Birth and was directed by Roderick Poole in collaboration with Eloise Wood and WildHoney Performing Arts, local Artists, and the good folk of the Otways.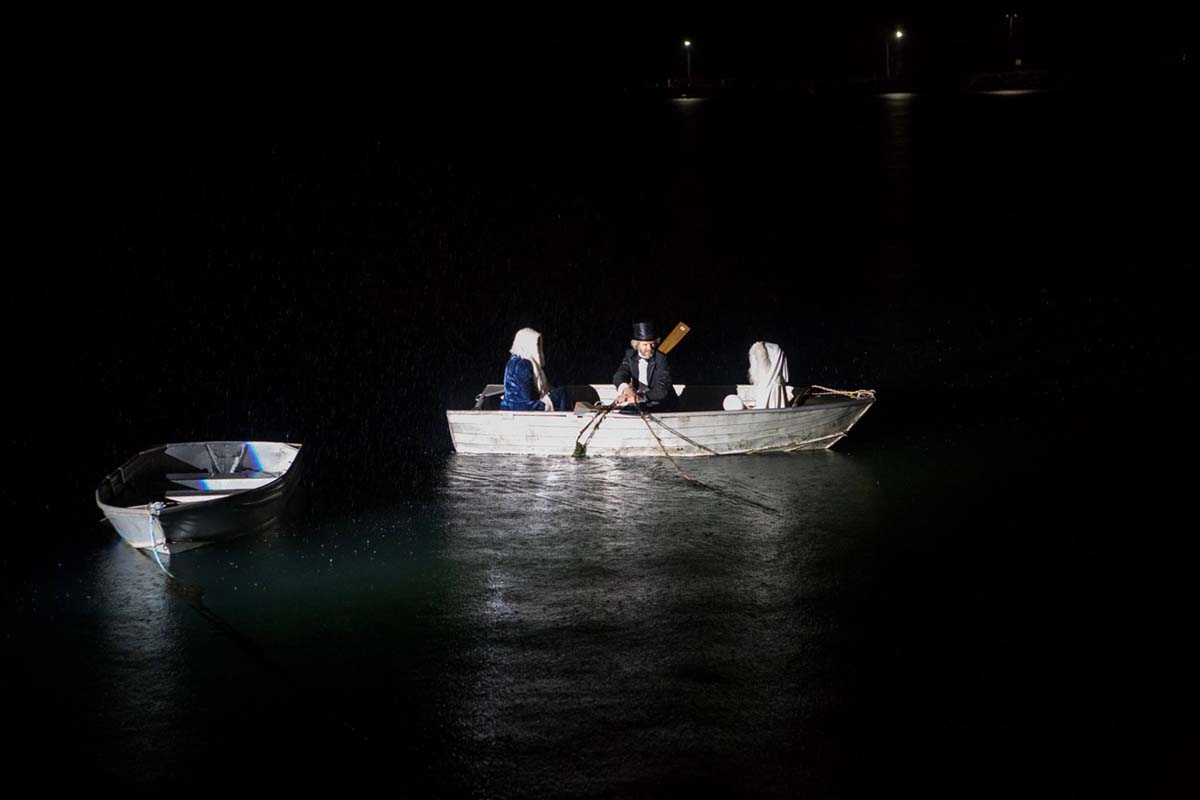 The Festival opened with a processional performance which led towards a 'Sacrifice'. A small girl was rowed across the harbor by her parents to be met at the wharf by a Priest and Priestess.
A ghostly horse rider appeared to gather the girl and join the procession that formed behind them including various farm animals, children bearing flaming torches, musicians and townspeople. In pouring rain, the procession forged forward along the foreshore and arrived before a giant effigy of Charon standing in his ferry. Charon demanded the child as a sacrifice, but the girl tricked Charon and set him alight. As the huge figure burned, the townspeople celebrated and the festival began.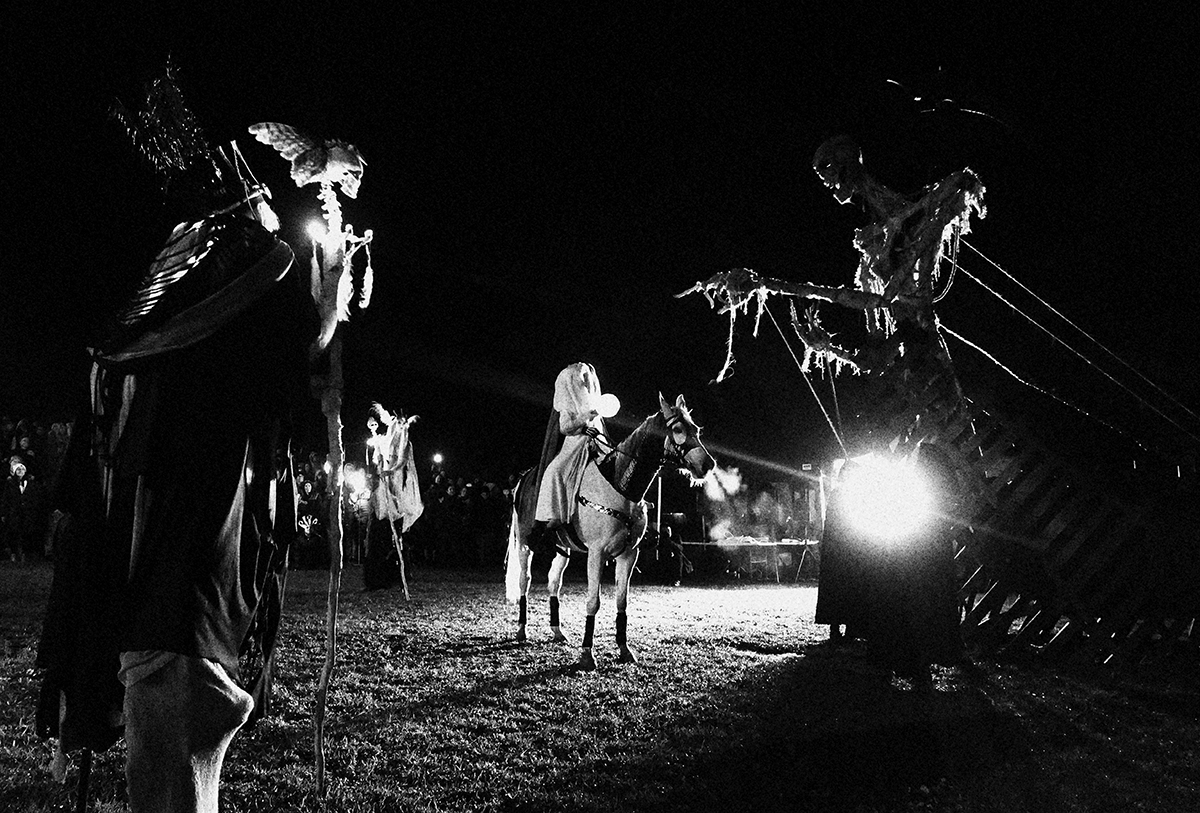 The young girl reappears in the middle of the town on horseback, victoriously holding aloft the charred head of Charon. Led by the Priest and Priestess and along with a band of musicians, her parents and torch bearers, she is taken through a ritual before the giant brazier. The girl partakes in a ceremony and rite of passage around a giant pentacle; where each star point is lit and represents a stage in her journey. When she reaches the final star point she stands alone before the brazier. The circle is lit and in a burst of fire and smoke she is transformed into a wild goddess. The festivities continued with dancing and revelry late into the night.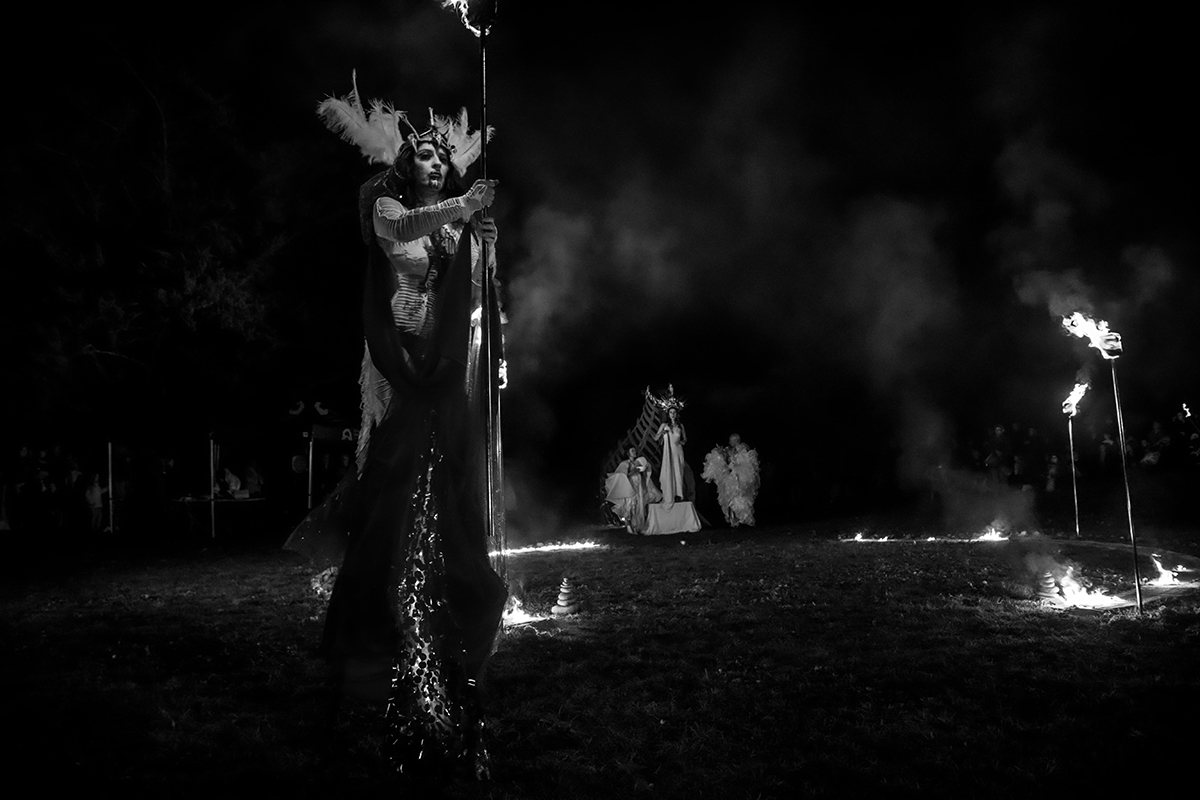 "Eloise Wood and her team have been an integral part of the outdoor program for WinterWild in its first two iterations. She performed, choreographed and contributed to the narratives of four large-scale works and her team designed and constructed costumes, head-pieces and props. This year in particular, the work was astounding. It was inspiring, daring, wonderfully creative and the attention to detail throughout the whole process was exceptional. This work has left an enormous legacy for the culture of our small seaside town. I cannot wait to get to work on our next project together."
Roderick Poole
Director, WinterWild Apollo Bay
2018
For Bookings and Enquiries